Jane Gillespie,  Senior Account Executive at Audacy and loving big-sister
2020 was a difficult year for everyone.  For my family, the loss of my sister made it even more painful.  While far too many families lost their loved ones and friends to Covid-19, the natural cycle of life continued for others and many of us lost our loved ones to old age, trauma, and even cancer.  My baby sister began her journey with cancer in 2015, that journey ended on October 18, 2020.  She was diagnosed in July of 2015 with Stage 3 HER2 Positive breast cancer.  We were devastated, but she was a fighter!  She immediately started chemo treatment and had 5 treatments before undergoing a double mastectomy as well as having some lymph nodes removed from under her left arm in November.  This was a devastating time for her emotionally as well as physically.  She struggled with losing her hair, her breasts, and with being frightened all the time that even with treatment and surgery, it wouldn't be enough to beat it.  Imagine that, imagine the feeling that despite the greatest effort you could ever imagine, you will still lose.  Not "may" lose, but "will" lose.  This is what hearing those words "you have cancer" does to even the strongest of us.  Well, fast forward a solid year of chemotherapy, a solid year of surgeries, and a solid year of mind-numbing fear of the future.  In August of 2016, she finally received a good report.  We were told that she had no evidence of disease.  She did it!  She beat cancer and looking back on that year we could honestly say that we felt like it was all worth it.  Given the aggressiveness of her type of cancer, her oncologist decided to be equally aggressive and continue her chemotherapy treatments for an additional year as a preventative measure.  It was January of 2017 when she began having headaches.  One after another and for no readily identifiable reason.  She often described them as feeling as if they were "moving". Well…we learned that the cancer was not gone.  Though we successfully beat it back, we did not beat it completely and now, it had metastasized to my baby sister's brain.  The prognosis was grim, and the tumors were inoperable so she began whole brain radiation for four weeks.  Over the next two years she would continue chemotherapy every three weeks, endure two more rounds of radiation treatment, and be given a high dosage of steroid treatment.   Though my baby sister started this journey wondering about her strength and whether or not she could beat this tumor, when her back was against the wall, she continued to fight…and fight hard. She was determined to live as fully as she could for her sons, our family, and our collective friends.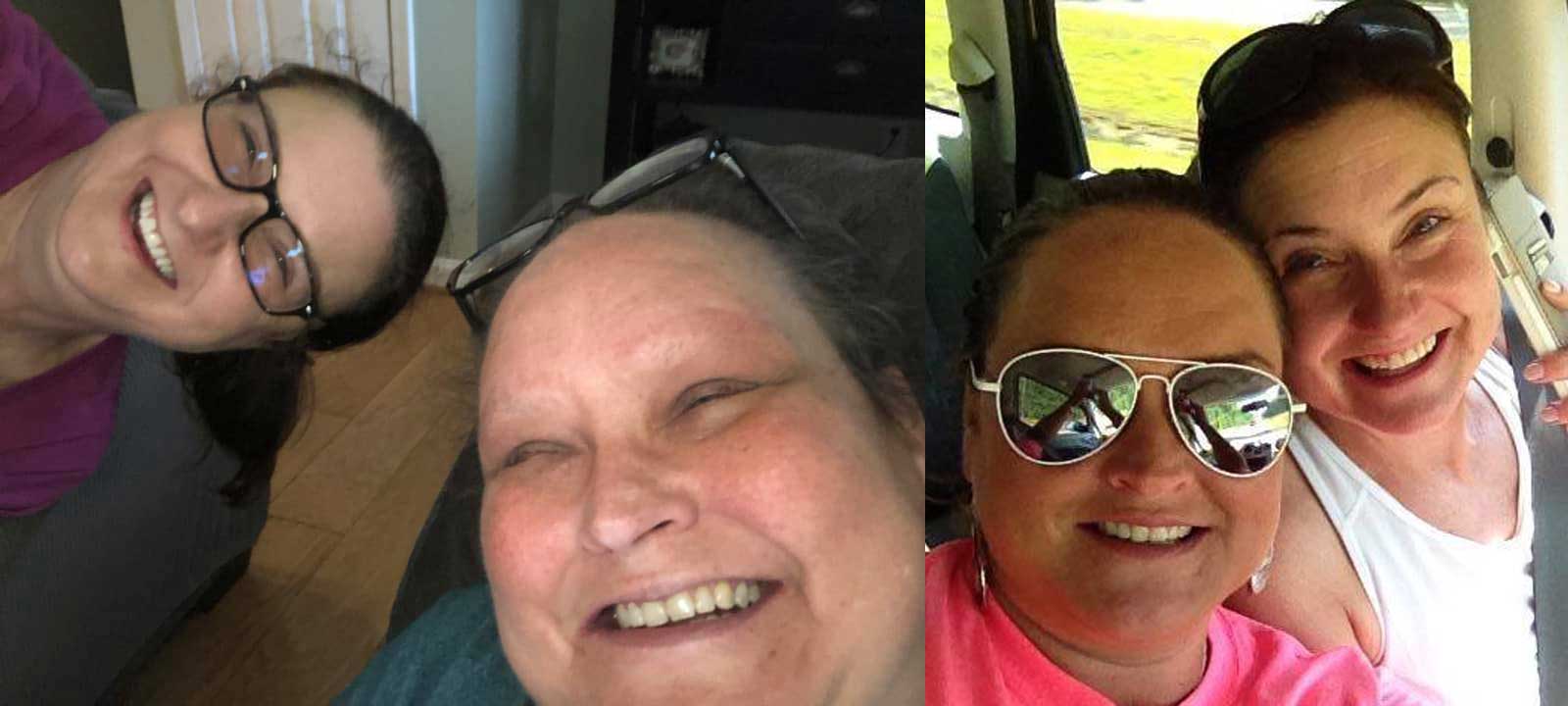 So…how does Covid-19 play a role in all of this?  Well, I supported my sister as much as I could for the first part of her journey, but living 400 miles away, we depended on friends who are like family to "step in" when I couldn't be there.  In May of 2020 after being quarantined for two months because of COVID-19, I was finally able to visit her and it was then that I saw firsthand how much she had declined since seeing her in February.  She had developed cataracts from the large dosage of steroids she was on to prevent swelling around her brain tumors.  She was no longer permitted to drive.  She was increasingly dependent on others for the basic necessities of life and people…it was just two months!!  Think back to two months ago and how the time in between then and now is essentially a blissful blur for most of us.  For her…two months seemed to me to be all it took to change my independent and vibrant sister forever.  Man I hate cancer and I hate Covid-19 for taking something as little as two months away from us.  My family and I made the decision to bring her and her eleven-year-old son home with me.  We visited an oncologist in Greenville, SC and after reviewing her records and previous MRI results, he determined that there were no more treatment options and that the next step was to call in hospice.   The decline during hospice started out slowly and then progressed very quickly at the end but I want everyone to understand that She fought until her very last breath.  She never gave up; her body simply wore out.
"Life isn't about quantity, it's about quality."
I feel extremely blessed to have been in a position to care for my sister at the end of her life.  I am so thankful for the support we had from coworkers, family, friends, and Hospice of the Upstate.  I learned to love hard and to make sure those I love know it every day.  I learned that sometimes you have to do things that are outside your comfort zone and that you don't feel equipped to do for those you love.  Do them anyway.  Never take one day or blessing for granted.  Covid has taught me more than any life lesson that life isn't about quantity, it's about quality.  Make memories with those you love, because one day those memories will be all you have!  A friend once told me that memories are like bank accounts.  You fill them up as much as you can because at some point, you take out more than you deposit and eventually all you live on are the withdrawals.
Two months…just think what we could have deposited in those two months…
In closing, if you are still reading this, I am going to ask a favor of you.  I want to encourage you to encourage yourself and others to do breast self-exams.  I want us to start a movement that ends with all women doing breast self-exams and scheduling regular clinical breast exams and mammograms with your doctor.  While I am ending this with the question about what we could have done in just two months, the bigger question is what could we have done with a breast self-exam in 2015.